Lawn Care Services
100% Lawn Care Service Guarantee
With our lawn care service, we 100% guarantee to kill ALL of your weeds.  Our lawn care service program is really sort of different. We only use liquid formulations and we do NOT use granular at all.  To better explain the effectiveness of liquid over granular, watch this funny video!
The difference between granular and liquid is that while other companies are spreading granular fertilizer, we are spraying fertilizer and weed control!  This allows us to truly guarantee that you won't have any weeds.  We just take better care of your lawn than the other companies because of our unique liquid only formula.
We know a lot of people have been burned by there lawn care service.  Some of the national companies just don't care about their clients.  They make millions and millions of dollars a few customers don't really matter to them.  Liquid Lawn is locally owned by Rick Wallace and I can guarantee you that we DO CARE!  Our reputation is very important to us!  Check out our local google business listing below.  We have the best reviews in the area!  And we have the most 5 star reviews! ⭐⭐⭐⭐⭐
Do you want a⚡lightning fast quote⚡ for your lawn care service?  Call us at (478) 200-0650 and we will get a quote to you within 24 hours!  If you would like us to email you a quote, please fill out the form below or on the side of the page!
Our 100% Weed Free Guarantee!!
Our unique liquid only application process allows us to guarantee our work.  By preventing weeds on every application we are able to provide a guarantee that is second to none!
We notify you before we come!
Instead of just showing up and and doing an application like all of the other companies.  We notify you the day before we come.  We feel like this is important so you can unlock backyard gates, move cars out of the way and put your pets up.
We have low monthly rates for your lawn care service!
We can bill you monthly to make your rate better fit into your budget.
No hassle billing!
We keep your credit card on safely file like Netflix, and we notify you the day before you come, notify you when your application has been completed and we send you an invoice and bill your credit card the day after we come.
Does your lawn have a problem?
Not a problem for us!  Our technicians will send you an email with photos of any problem areas that need addressing immediately!  All of technicians use tablets to document any problems and you will automatically be notified.
Check out this beautiful weed free lawn maintained by our lawn care service.  Our proactive program keeps this lawn protected from weeds, disease, and insects.

One of our lawn care service technicians applying a liquid lawn treatment in Macon at one of our residential accounts.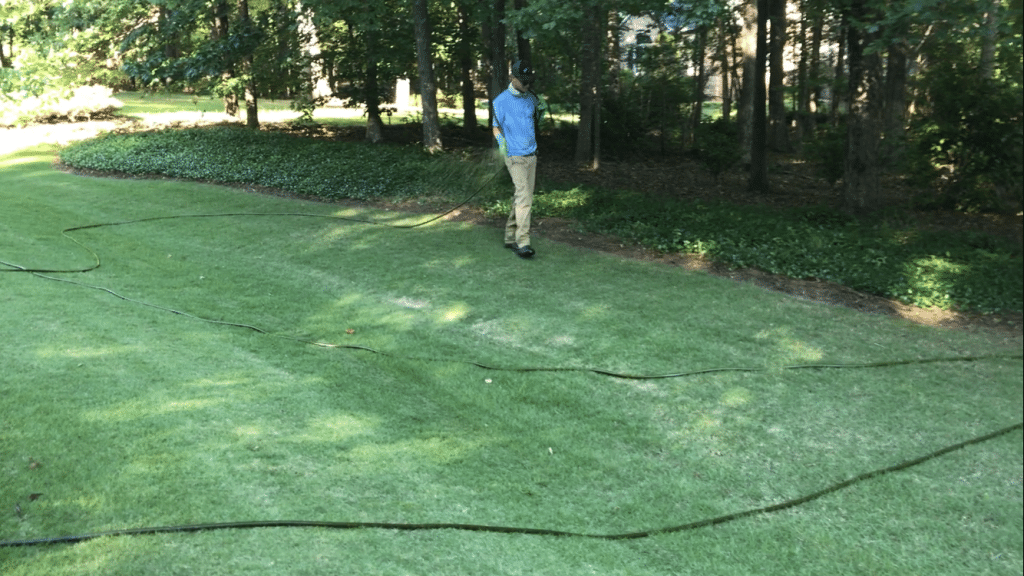 If we can help you with your lawn care service, please fill out the form below for a ⚡lightning fast quote⚡
Want to see more videos?  Check out our lawn care video gallery
Want to read more about lawn care stuff?  Check out our lawn care blog.
Interested in lawn maintenance, contact our sister company @ lawnworks.me/contact-us
Our service areas include: Byron, Macon, Warner Robins, Centerville, Bonaire, Kathleen, Gray, Forsyth, Bolingbroke, Perry and Ft Valley.